Going into my second indoor season in the pro division, I have developed a system for setting up my indoor sights. There are endless options when it comes to how you can set up your sight system, whether it be pin size, dot size, housing size or lens power. Everyone has their preferences for what they prefer to shoot and what works for them, I like to continually try new configurations to see if it may improve my scores or make my shot process more consistent. Here are just a few tips I can give you for trying indoors this season.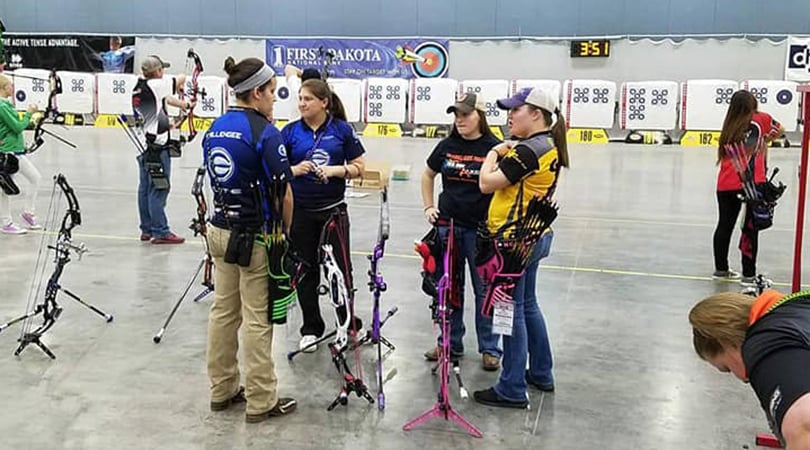 While I constantly try new ideas just to see if they work for me, I keep coming back to the same basic setup. I prefer to shoot a higher-powered lens inside, I consistently shoot a 6x lens, but I have been trying out an 8x most recently. When it comes to lenses I never started off with a low power, I shot a 4x for a year and then went to a 6x and fell in love! The 6 gives me the ability to see the rings on the target while I am still able to distinguish which target is mine and not have my movement be magnified as well.
Shop CBE sights and accessories by clicking HERE.
I love to pair a medium sized dot with this type of lens. For a year or two I shot a dot that covered the whole yellow on a 3-spot target, since then I have switched to one that only covers the ten ring. The slightly smaller dot kept me from getting lazy. With the big dot it minimized the movement I saw, which in turn left me with a bigger float pattern than intended. The smaller dot helped me get my float pattern minimized and left me with a more consistent shot pattern. What may be found as the simplest aspect but one of the more important pieces of my system is the coloring ring I have screwed into the front of my scope. It helps me line my peep up better around my scope, this can seem like a trivial aspect but if you don't line it up the same every time it can affect where the arrow lands.
Something I do not like shooting for indoor is a pin in my scope. I used to shoot one years ago until I began shooting collegiately, they followed world archery rules which prohibited the use of a light. Without a light I was unable to see my pin as well if I was shooting in a dark range. This is why I began shooting a dot on my lens, and I have never looked back. Not having to rely on a light made my setup a lot simpler because I did not have to remember to put new batteries in my light, or make sure that I had packed extra batteries. I was always awful at remembering to check for these things. With the stress of tournaments, having one less aspect to worry about can be a huge relief! It can be so easy to let one thing slip your mind