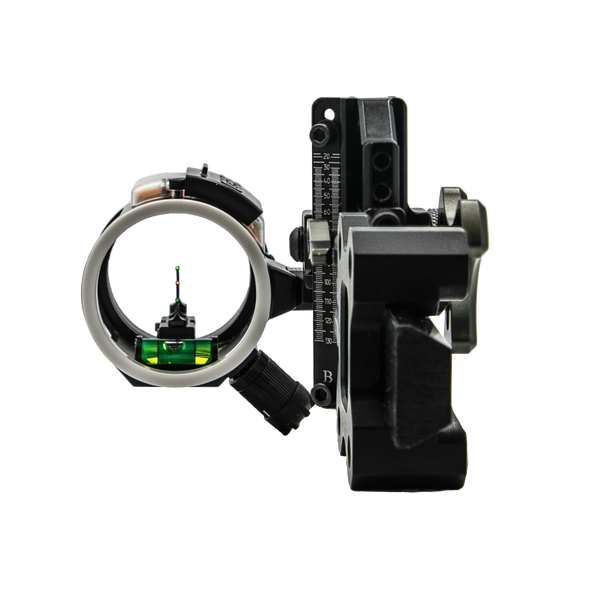 **DUE TO EXTREMELY HIGH DEMAND SIGHT WILL SHIP IN 4 WEEKS**
The NEW TREK Vertical Series brings you the clear picture you've been looking for with a compact vertical pin design — creating more space for you to aim with less distractions in your sight picture. The TREK 3V PRO sight features three vertical pins, including a fixed position middle pin and micro adjustable first and third pins. Additionally, the TREK 3V PRO offers the ability to add a lens or sunshade and includes a sliding rheostat cover for adjusting the brightness your pins for even more customization.

The Redesigned machined aluminum scope housings of the TREK Vertical Series accept the CBE Peep alignment rings and include 4 different colors to choose from. Rheostat sight lights are included, as well as the ability to be modified to the CBE Picatinny or CBE Bridge Lock adapters. The new TREK Vertical sights are available in .01" or .019" fiber pins and in Right- or Left-hand configurations.  
Including the signature CBE Hybrid Drive system with hard stop, 1st, 2nd, and 3rd axis adjustments, micro windage, laser engraved sight scales, and NOW the option for vertical multi-pins — the new TREK sight offers the ultimate versatility and flexibility in a premium hunting sight. 
Weight - 9.856 oz
Features:
NEW - 3 Vertical Pins with Micro Adjustable Top and Bottom Pins

NEW - Set Up Two Vertical Pins with Dual Indicator Pointers
Lightweight Design Featuring a Carbon Fiber Extension Dovetail Sight Bar with Numerous Positioning Options

12" of fiber Optic Management System for Better Protection & Even Brighter Pins
Machined Aluminum Construction for Added Durability
Hybrid Elevation Adjustment with Dead Stop for Top Pin
Micro Windage Adjustment with Laser Engraved Marks & Micro Blade Pin System

Available with .010" or .019" Blade Pins and in RH or LH configurations

Adjustable 1st, 2nd, and 3rd Axis
Lock Down Knob & Multiple Mounting Positions for Elevation & Windage Adjustments
Accepts a 41mm Lens and Sunshade
Interchangeable peep alignment rings

Green, Red, Yellow, and Grey Included

Sliding rheostat cover to optimize pin brightness
Set up two floating pins with multiple indicator pointers
Laser engraved aluminum sight yardage scales
Rheostat sight light included


Perfect sight, one thing missing
Wanted something similar to my tl3 and went with this. Excellent sight, lots of adjustability, just perfect in every way except at this price there should be an included neoprene cover.
well engineered
Plenty of adjustments including 1st axis and that doesn't happen often.
First 3 pin sight
Great sight. Easy to get sighted In and sight tape that the gauge says to use is right on for my 514gr arrows. Mounted using the picatiny adapter and it is rock solid