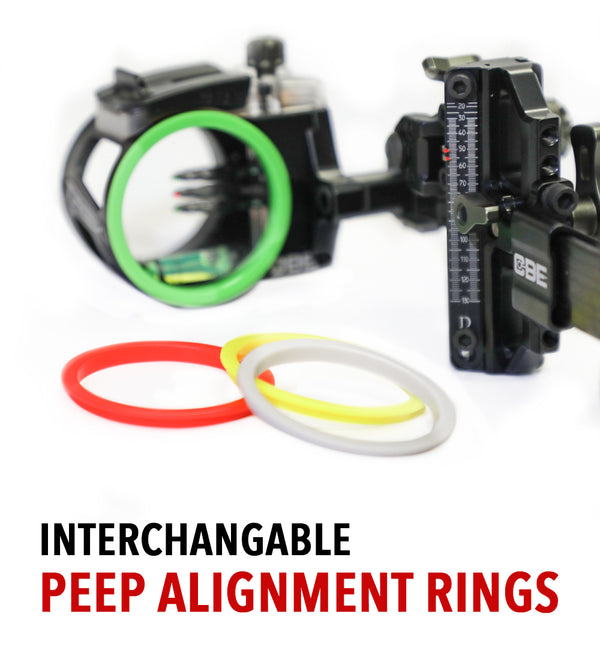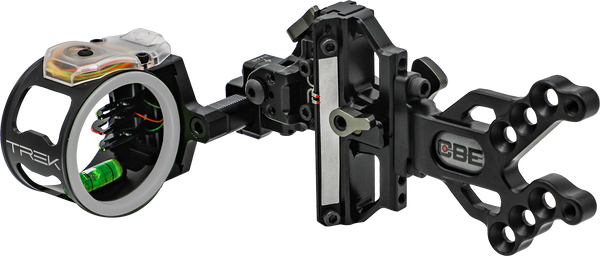 NEW Ability to Set Up to Two Floating Pins with Multiple Indicator Pointers
Lightweight Design- Smart Mount Multi-Positioning Mounting Holes
Hybrid Elevation Adjust
Sight Scales Included
Micro Windage Adjustment with Laser Engraved Marks
Windage and Elevation Lockdown Knobs
Dead Stop for Top Pin
Adjustable 1st, 2nd, and 3rd Axis
Multiple Mounting Positions for Elevation & Windage Adjustments
Sight Light Included
Available with .010" or .019" Blade Pins
Available with a 1-pin, 3-pin, or a 5-pin housing
Interchangeable Fluorescent Peep Alignment Rings – Green Comes Installed with Red, Yellow and Gray Included
Fiber Management System for Even Brighter Pins and Better Protection with 12" of Fiber
Fully Ambidextrous
Fully Machined Aluminum Construction
Weight: 

CBE Trek Smart Mount – 8.6 oz 

CBE Trek

Smart 

Mount – 8.8 oz 

CBE Trek

Smart 

Mount – 9.1 oz
This is a quality sight.
I had never used one like this before. I always had a fixed sight. But I was prepping for a Colorado elk hunt, and I needed more distance. It takes some studying and education, but I was able to get this thing dialed in, and I love it. It really is pretty easy, and this thing performs as good as any of top shelf brands.
Trek
Super easy sight to set up and dial in. Pins are bright and the tapes are metal and built to last. I love the micro adjustments and marks for the pins for easy sight ins. Probably the easiest sight to set up and dial in.
Great Sight
I set one of these up for the first time this past week and was very pleased. This is a quality built sight and is very user friendly
Trek
What a fantastic sight, pins are nice and bright, metal tapes and built to last. You can't go wrong with cbe products that's forsure.
Trek 3 pin
Really easy to set the tape with provided gauge. Super smooth and precise. Pins are very crisp and bright. I love the steel sight tapes!