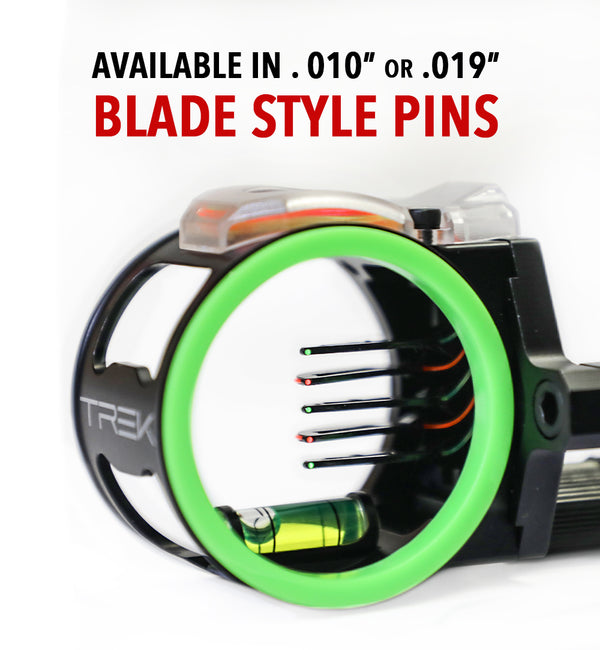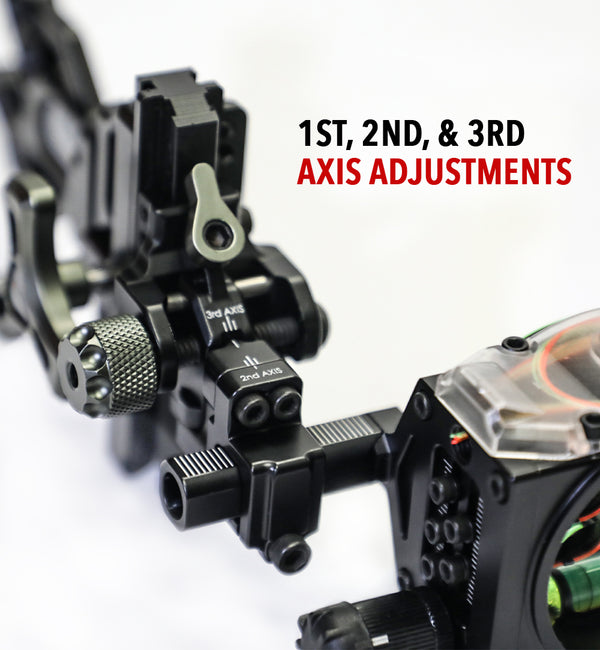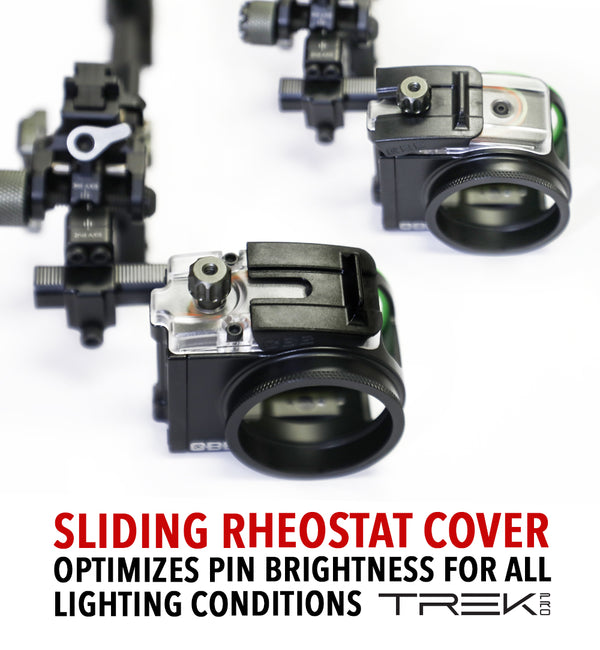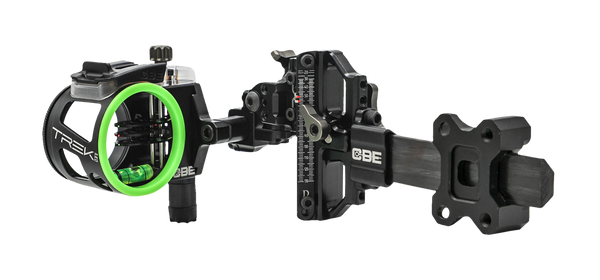 The CBE TREK PRO Bow Sight is packed with premium features that will handle any distance and light conditions, all in a simple-to-use, versatile bow sight.
There isn't a distance or scenario this sight can't handle with the ability to set up two floating pins with multiple indicator pointers. Set up is easy with micro-adjustable windage and elevation with a dead stop for your top pin and rapid drive for fast adjustment! Fine tune your sight at 30 yards and then at 60 yards, once completed simply affix one of the 14 laser engraved aluminum sight tapes to ensure accuracy at any distance in between. Constructed of lightweight 6061-T6 Aluminum & a Carbon Dovetail extension bar, the TREK PRO bow sight ensures durability in even the toughest conditions.
Featuring the
Sliding Rheostat
cover to further optimize your pin's brightness in all lighting conditions, this sight ensures a customizable shot acquisition and proper lighting with the interchangeable peep alignment rings; rheostat is included and has the ability to add a 41 MM lens for even more customizability. The 12 inches of fiber optics are protected within
CBE's Blade PinTM
and is available in .010" or .019" and either in 1, 3, or 5-pin configurations. Suitable for right and left-handed shooters with 1
st
, 2
nd
, and 3
rd
Axis Adjustment, with a Carbon Fiber extension dovetail sight bar for numerous mounting positioning, the
TREK PRO Bow Sight
fits all your needs!
Weight:

CBE TREK PRO 1 Pin w/ Mount - 10.3 oz

CBE TREK PRO 3 Pin w/ Mount - 11.0 oz

CBE TREK PRO 5 Pin w/ Mount - 11.4 oz
Features:
Available in .010" or .019"
Available with a 1-pin, 3-pin, or 5-pin housing
Accepts 41mm lens
Sight Light Included
12 inches of fiber optics are protected within CBE's Blade PinTM design
Interchangeable Fluorescent Peep Alignment Rings – Comes installed with Green; Red, Yellow, and Gray Included
Sliding Rheostat Cover for Optimized Pin Brightness in All Lighting Conditions
Ability to Set Up to Two Floating Pins with Multiple Indicator Pointers
Lightweight Design – Carbon Fiber Extension Dovetail Sight Bar with Ball Detent and "Click" on the Carbon Bar Position
Quiver Mounting Position on Mount
Hybrid Elevation Adjust
Rapid Drive for Fast Adjustments
Laser Engraved Aluminum Sight Yardage Scales
Micro Adjustable Blade Pins Using a Micro Pin System
Micro Windage Adjustment with Laser Engraved Marks
Adjustable 1st, 2nd, and 3rd Axis
Windage and Elevation Lock Down
Dead Stop for Top Pin
Multiple Mounting Positions for Elevation & Windage Adjustments
Fully Ambidextrous
Fully Machined Aluminum Construction
I love everything about this sight except one thing, the indicator needles are trash just like the previous models. Other than that this sight is amazing!
Trek pro 3 pin
Very well constructed. Solid and easily adjustable. Sighting in each pin is simple and accurate.
Trek Pro single pin sight
Well made and gotta love the micro adjustments
Built like a tank and super bright. Love it!
Best sight I've had
Never in my life would I think I'd switch to a single pin sight but I wouldn't change back for anything it's got me and my omnia shooting smooth as butter laser engraved tapes are a huge win also