Representing the United States in the men's compound division, Braden Gellenthien wrapped up his target season with an individual silver medal, mixed team gold and Longines Prize for Precision award at the World Cup Final in Moscow, Russia over the weekend.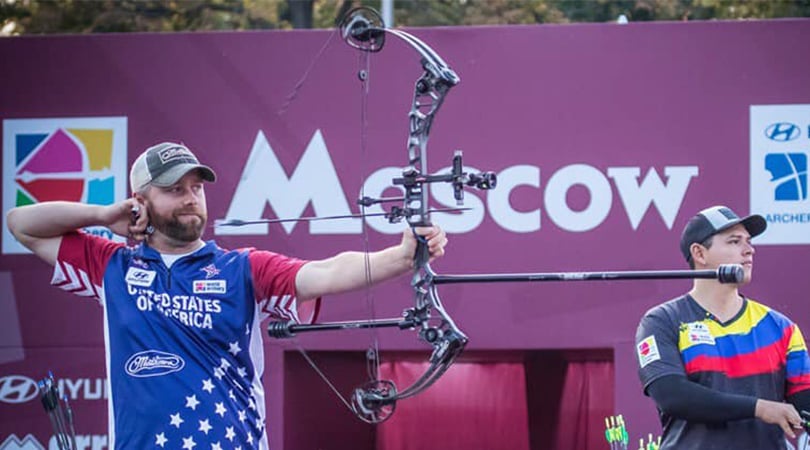 The "World's Most Decorated Archer" continued his dominance in the World Cup Final, which took place after a season of tough qualification. To earn his position, Gellenthien needed to either win one of the four prior stages, or accumulate enough points on the season to secure one of the two available slots for the United States. While Gellenthien would have earned the requisite points to qualify, his win in Shanghai ultimately secured his spot in the top eight competitors of the final as the second seed.
Shooting a Scott Archery release and the new Custom Bow Equipment Elevate sight, Gellenthien took to the field with confidence in Moscow and secured a mixed team gold medal finish with Team USA's Alexis Ruiz.
"The new CBE Elevate sight has played a crucial role in my performance," said Gellenthien. "The sight stays true after thousands of shots and allows me to accurately micro-adjust my point of impact as the conditions change."
In a breakout individual quarterfinal match, Gellenthien bested the Turkish archer, Evren Cagiran, 146-149, followed by a 146-147 win over Colombia's Daniel Munoz in the semifinal to head into the gold medal match. Down by one point through three ends, back to back 9's in the fourth to the Netherland's Mike Schloesser's X-X-X ultimately sealed the match and a silver medal finish for Gellenthien.
"The silver medal at the World Cup Final was a great way to cap off the season. While everyone always wants to win, I find a lot of pride and confidence in recapturing the World #1 ranking with the points I accumulated there," Gellenthien said. "In addition to regaining the World #1, I also finished atop the organization in the race for the Longines Prize for Precision. At the end of the year, this award is given to the athlete who shoots the most 10s of all competitors - it's basically the Shooter of the Year award for World Archery. This award is a testament to both my equipment and the hard work I've put into my training and performance over the last several years."
Gellenthien sets his sights on the USAT Texas Shootout prior to readying for indoor season